For the last few years, our youth ministry has been trying to become more gospel advancing. We want our students to be the ones reaching their friends. They don't have to bring them to me; they can be the ones to share the gospel with them. Early on in this process, we learned about a simple element to add to our youth meetings (from our friends at dare 2 share) called Take 5 for the Cause (some call it Pause for the Cause). When you pair Take 5 with The Cause Circle (last week's blog), you have a simple but effective way to help your students reach their friends.
Each week in your youth ministry, give 5 minutes for your students to talk about opportunities they have had to share their faith with someone. This can be done in the large group meeting or in small groups. I recommend a mixture of both throughout the year. This sharing time can be around any of the three elements of The Cause Circle.
Prayer – Who are you praying for this week who needs to know Jesus as their Savior?
Care – What ways have you served your unbelieving friends this week?
Share – What gospel conversations have you had with an unbeliever this week?
It may take a little while for your students to get used to sharing like this, but stick with it! Eventually you will create a culture that communicates the importance of sharing our faith.
Make it visual – Two of our leaders made a display case (plexiglass front) for ping pong balls. We have four different colors, and each color represents a different aspect of The Cause Circle. Then the white ping pong balls represent someone who has trusted Christ. When a student or leader begins to pray for someone's salvation, we have them write their name on the coordinating color ping pong ball and drop it in the display. The same is true when they show the love of Christ to someone by caring. Then of course, when they have a gospel conversation, they put that name in as well. This visual keeps the goal of reaching their friends in front of our students each week. Recently, one of our students was able to drop a white ping pong ball in the display with the name of her friend who had just trusted Christ the night before!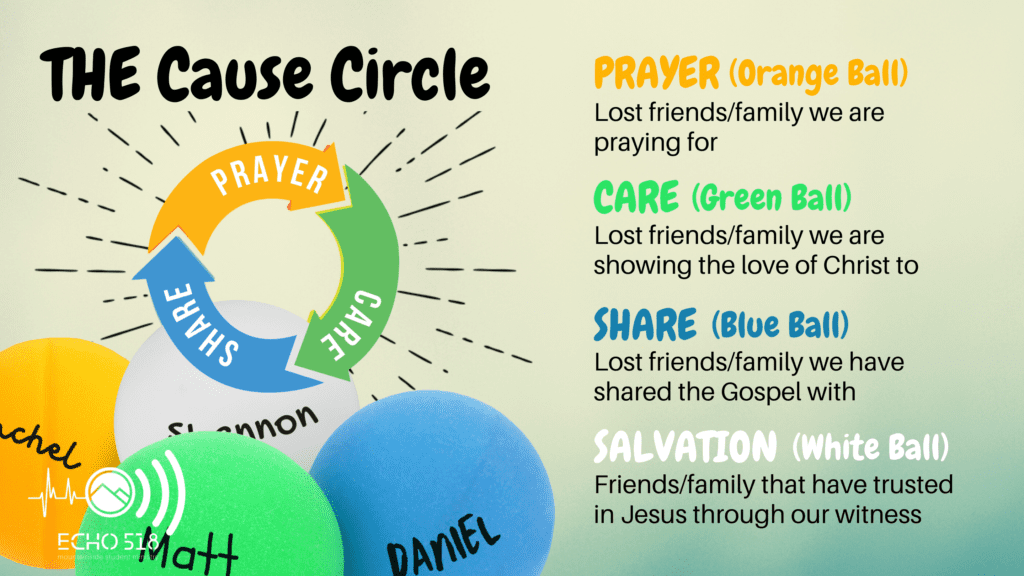 The good and the bad – Don't just encourage students to share success stories. It is ok to share about missed opportunities or even sharing attempts gone bad. It is surprising how much this encourages others who are struggling.
Lead by example – Leaders ought to be leading the way when it comes to sharing our faith. We also ought to be ready to share our stories. Our example will encourage students and help create a culture of sharing.
Occasional incentives – Our favorite incentive is a candy bar called Take 5. Simply offer one to the first 3-5 students who will share a faith sharing story.
Take 5 is a great early step to making your youth ministry more gospel advancing.
Brian has been in youth ministry for 23 years. He is passionate about communicating truth to young people and the leaders that work with them. Brian loves to play, watch and talk about all kinds of sports. He and his wife Lynn have three awesome teenagers and live in upstate, NY.